RESOURCES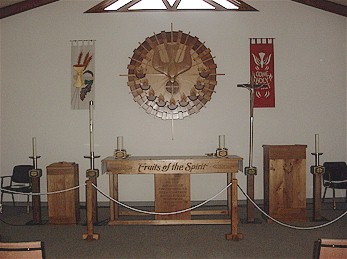 Alter in Peace Center
RightNow Media Link Here
Time and Talent Survey Link Here
Groups and Programs Link Here
Missouri Synod http://www.lcms.org/
Lutheran Hour http://www.gospelcom.net/lhmra/
Lutheran Women's Mission http://www.lwml.org/
Audio Bible http://www.audio-bible.com/bible/bible.html
Camp Luther http://www.campluther.com
Northern District LCMS http://www.nwdlcms.org
Lutheran Counseling and Family Services toll free 1-800-291-4513

THE LUTHERAN HOUR

Peace Lutheran Church in cooperation with St. Paul's, Butternut, sponsors the Lutheran Hour on the Park Falls Radio Stationd WCQM 98.3 FM at 8:30 AM each Sunday morning. To sponsor one or more weeks of this outreach, sign up in the Radio Broadcast booklet in the narthex of the church or call the church office. Place your contribution of $16 in the offering plate with the envelope marked "The Lutheran Hour". - Thank you. .
ON-LINE NEWSLETTER
Monthly Newsletter on your computer
Since receiving positive feedback the monthly newsletter is now online. This is convenient and saves on paper, postage and copier charges. Click the Newsletter link at the top of the page to view the newsletter. A supply of newsletters is available for pick up at the Peace Center and the church narthex. Newsletters will be mailed to shut-ins. If you would like the newsletter emailed to you or for any questions, please contact Barb at (715) 762-4541 or email here.
QUICK CONTACT
Pastor Samuel Morsching
Office:(715) 762-4541
email: peace2you@pctcnet.net